Third Party Manufacturing Herbal/Ayurvedic Product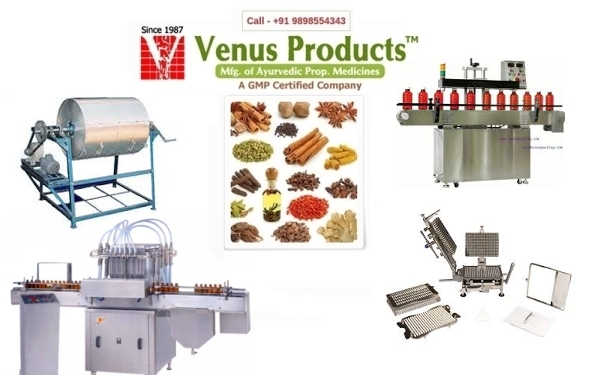 Third Party Manufacturing Herbal/Ayurvedic Product
Product Code : 01
Brand Name : Venus Products
We are providing herbal / ayurvedic products on Contract or third party based as per customer requirements.
Apart from manufacturing Herbal & Ayurvedic products under its own brand name Venus Products is also very well known for its Third Party Manufacturing services and if you are looking for an Ayurvedic or Herbal product manufacturer then you have found the best one. We are completely flexible with our services which means everything from formulation to packaging can be done according to the buyer's requirement. We also offer the most competitive Minimum Order Quantity in the industry which is as follows:
All the raw material used is only sourced from certified suppliers and after that every single ingredient is tested in our in house laboratory.
Advantages of having a private labeled product of your own:
Unique

- The product is produced for you only, according to your requirements and no one else will have your product and hence no competition.

Costs-saving

– You don't need to build a factory. When you want to have a product of your own, our company will be your best choice

Small investment, large profits

- We can make high-quality private-labeled products with the advanced equipments under the supervision of our specialists. Different from other manufacturers, the MOQ for private label is small and you don't need to invest much money but the profits can be very huge.

Easy market and price control

- you can have full control over promotion strategy, brand building, distributors' selection, price policy and market control etc.
We can supply products as per given below (Any kind of Ayurvedic or Herbal Products)
Herbal Hair Growth Products
Arthritis Oil & Capsule
Cough Syrup
Urinary Stone Syrup
Liver Tonic
Family Health Tonic and Capsule
Gastritis Syrup & Capsule and Piles Capsule
Minimum order should as per below.
Capsules : 1,00,000
Syrup : 500 liters
Oil : 300 liters
For more details call or mail us.

[Contract Manufacturing, Third Party Manufacturing, Herbal Contract Manufacturing, Ayurvedic Contract Manufacturing, Herbal Third Party Manufacturing, Ayurvedic Third Party Manufacturing]